Wrote this for my English Class. It does have spoilers.
Imagine it's years into the future, and you're buying the latest video game. However, this isn't any ordinary video game... It's a virtual reality game. A game where you feel like you're actually inside of the mystical and magical world the game developers created. You can feel pain when you're hit, you feel hungry, you feel thirsty, it's just like real life. You buy the game, you head home, and you plug the game in. Suddenly you're whisked away into a massive multiplayer game set in medieval times. You start playing the video game and you're having a ton of fun, when you decide you want to logout for dinner. There's no logout button. You can't logout of the game. You're stuck in the game. Suddenly you and the friends you're playing with are teleported back to the main town, and the game master informs you that you can't logout of Sword Art Online. When you die in the game, the virtual reality mechanism you're laying in will send an electrical shock to your brain and will kill you. Your family members can't unplug the console either, it has a battery. You're stuck until you clear all of the floors of the huge online game. This is the setup for the plot of the extremely popular anime, Sword Art Online.
Sword art online is extremely appealing and extremely entertaining to some people. It's fun to watch the main character Kirito explore the world, and learn about how the game is played. Whether it's how you charge up an ability for a sword swinging attack, or it's simply seeing how cooking in the game works. Gamers will be extremely entertained by this anime just because of the fact that it's about a video game. One thing that Sword Art Online does is it keeps the pace of the anime very fast, which helps you stay into it. One episode of this anime can feel like 3 episodes of another anime. They manage to cram so many different small adventures into one episode that it's really insane. The first couple of episodes set the pace extremely well for the rest of this anime. They manage to pull you in very well, and many people cry in the second episode when one of the first characters you meet is killed. Gamers can relate to the main character, while looking up to him as a role model. They also do a great job making each episode end on a cliffhanger for the next episode. It makes you want to see the next one, even if the previous one wasn't everything you expected. I feel like a lot of the appeal for it is also increased by the fact that virtual reality technology is around the corner.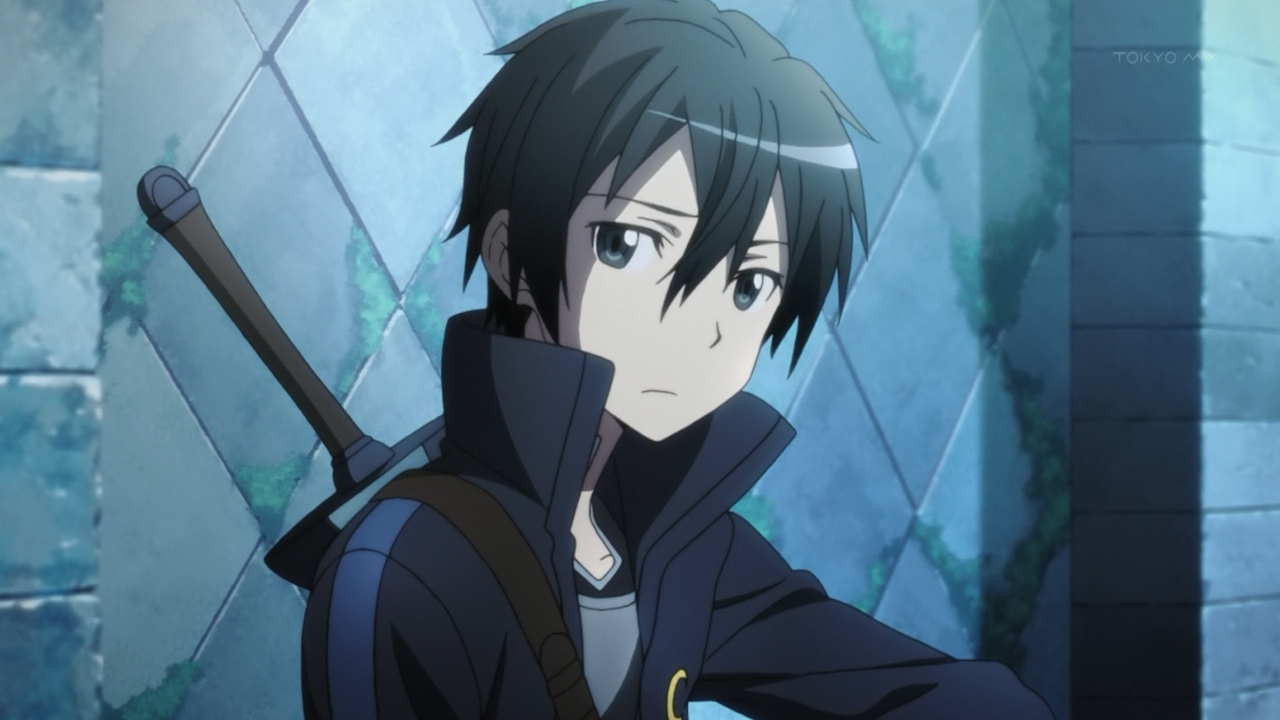 The character development is decent at best for this anime. They hit well on the character Kirito. Kirito is the solo player who doesn't like grouping with others, and considers other players a burden to hang out with. That said, they didn't do so well on other characters. Kirito in the anime, falls in love with the female character Asuna. Asuna in the first few episodes is shown to be very shy. She also doesn't like to play with other players. She's the only other person playing alone when you meet her. However, later in the show when Kirito manages to see her again, she's suddenly one of the highest ranked players in the game's largest guild. A guild is like a group of people who play the game together as a team and assist each other. That's going way outside of her character. It really doesn't make sense if you think about it. Later in the show Kirito manages to acquire some food he wants cooked. He goes into town searching for someone with a high enough cooking level to cook his food he found, and it turns out Asuna has the cooking level. He asks her to cook it for him, and she does, then suddenly she's taking her clothes off and saying that she loves him. It seemed extremely forced and extremely rushed. They barely knew each other, and the love felt like it developed way too fast. The other character that isn't very well developed is the game's villain. They try way too hard to make you hate him for no reason. They keep trying to make him seem like some creepy rapist with the expressions they put on his face. It's almost cringe-worthy how bad they try to make you hate this guy.
The plot of this anime isn't very well constructed. The plot really doesn't progress that much in the anime, and contains quite a few plot holes. It doesn't progress very fast because often times they spend more time trying to show you how this huge world works, and then kind of rush through the next few scenes trying to progress the plot, or giving you a giant time skip. For example, the main goal in the anime is for kirito to escape the game. The first couple of episodes Kirito is working at that goal. He defeats his first boss, then there is a time skip and kirito spends around 5 episodes goofing around, trying to acquire a better weapon, learning how a couple of the ingame skills work, and rescuing random female players. Then all of the sudden it's like they realized, hey we want to finish this part of the story in the next 4 episodes, and suddenly he's progressing again. There are 2 seasons. Both seasons the entire middle section is goofing off, then the beginning and end is him buckling down and finishing things. One of the major issues with this anime is Kirito is essentially a god at the game. He never fails at anything. He's always the best. He's the only guy able to wield two swords, he's the best player in the game, he's getting all of the girls. The one time Kirito loses, it's because the other guy was the game master and he cheated, and they make sure you know it. There's a part where Kirito uses illusion magic, which everyone says is useless when he asks about it. He turns into the "illusion" of a giant monster and eats peoples heads off. I don't know a lot about illusions, but illusions aren't actually supposed to be there. That looked more like some sort of shape shifting magic, and they never explain how the illusion was actually there, how he was able to kill someone as an illusion... It's Kirito, he's a god at the game, I guess the author wants you to just accept it. The first season ends the plot with the most awful ending I have ever seen in my life. Kirito asks the guy who created the game why he trapped 3,000 people inside of it, killing dozens of them and the guy simply replies with, "I forgot the answer to that a long time ago…" That isn't at all a good ending. You forgot? Really..? If I wasn't so fascinated with this anime because of being a gamer and wanting to learn more about this world the author put together, I probably would have also forgotten why I was even watching this show at that point.
Sword Art Online is actually one of my favorite animes that I have ever watched, along with many other people around the world, even though it has so many flaws and issues. The world the author creates is just so vivid, and entertaining to learn about. Many of us viewers look up to the main character Kirito, because we always want to be the best at the games we are playing, so he obviously ends up being a big reason people don't notice the flaws and watch the show. This show keeps you watching completely off of relating to Kirito, wanting to see where he goes with the girl Asuna, and learning about Sword Art Online as a game, while fantasizing about being in a real virtual reality video game. It's kind of every gamers dream to actually be in a game. If you're looking for a nicely paced, entertaining and a medium lengthed anime, Sword Art Online more than delivers in all of those departments.